Portraits of Palm Beach
Palm Beach has passed the century mark with a glittering history of fame, fortune and glamour. Here are just a few chapters from that storied past.
From the beginning, Palm Beach was the province of dreamers and builders, land barons and gamblers. Over the years, the island has continued to attract a colorful cast of characters, from a man with visions of paradise to a woman who painted a room in gold. Here are a few of the faces—and places—that have made Palm Beach what it is.
Henry Flagler
Flagler, the Standard Oil tycoon credited with bringing the world to Florida via the railroad he built, "created" Palm Beach when he opened the Royal Poinciana Hotel in the winter of 1894 and claimed the island as the country's premier winter resort. He next built the Palm Beach Inn, which opened in 1896 and later became known as The Breakers. It burned down twice, in 1903 and 1925. In 1926, the building was rebuilt, and it still stands today, one of the most beautiful and famous resorts in the world—and still owned by the Flagler family. Flagler's beloved mansion "Whitehall," which he built in 1901 for his wife, Mary Lily Kenan, was sold by his heirs in 1925 and used as an elegant hotel residence. In 1959, Jean Flagler Matthews purchased the property, acquired many of the mansion's original furnishings and opened it as the Flagler Museum off Cocoanut Row.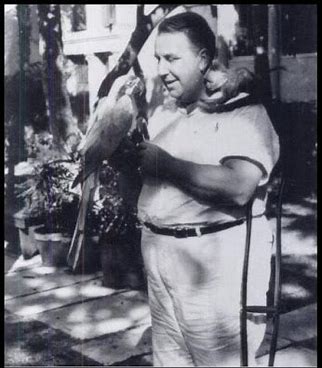 Addison Mizner
Mizner, a talented architect who designed some of New York's most notable mansions, was somewhat of a roustabout who made his way to Palm Beach in 1918 and connected with Paris Singer, heir to the Singer sewing machine fortune. Mizner was passionate about re-creating the distinctive Moorish-Mediterranean-style architecture he had seen on his travels to Central America and Europe, and he wasted little time picking up where Flagler left off. First came the Everglades Club, a decidedly bold statement that set the pace for subsequent design. His first commission to build an oceanfront house resulted in El Mirasol (The Sunflower), home of self-made Philadelphia financier and stock market icon Edward T. Stotesbury and his wife, Eva, Palm Beach's most notable family of the time. Mizner went on to build equally grand estates for some of the island's most influential presidents, including the Phipps and the Vanderbilts. He died in 1933.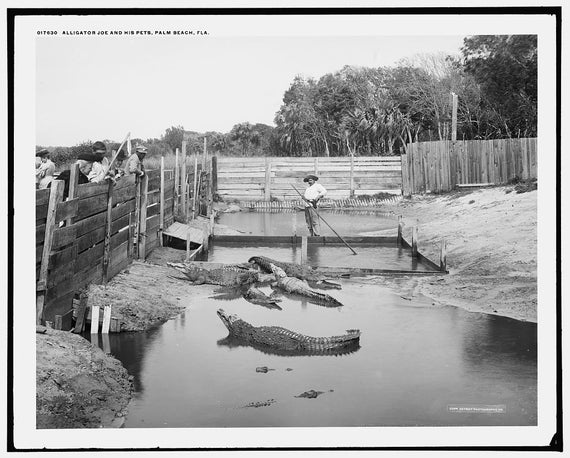 ALLIGATOR JOE'S
At the turn of the century, an enterprising man named Warren Frazee operated what might be the area's first tourist attraction: 100 alligators and crocodiles in a pen on property that is now the Everglades Club golf course.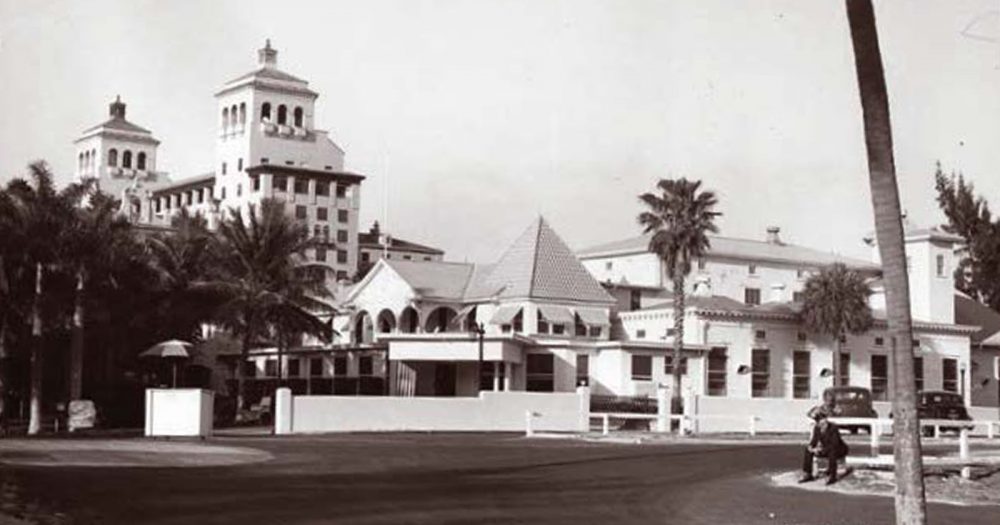 EVERGLADES CLUB
This is arguably the most exclusive—and oldest—club in Palm Beach, built in 1918 by Addison Mizner.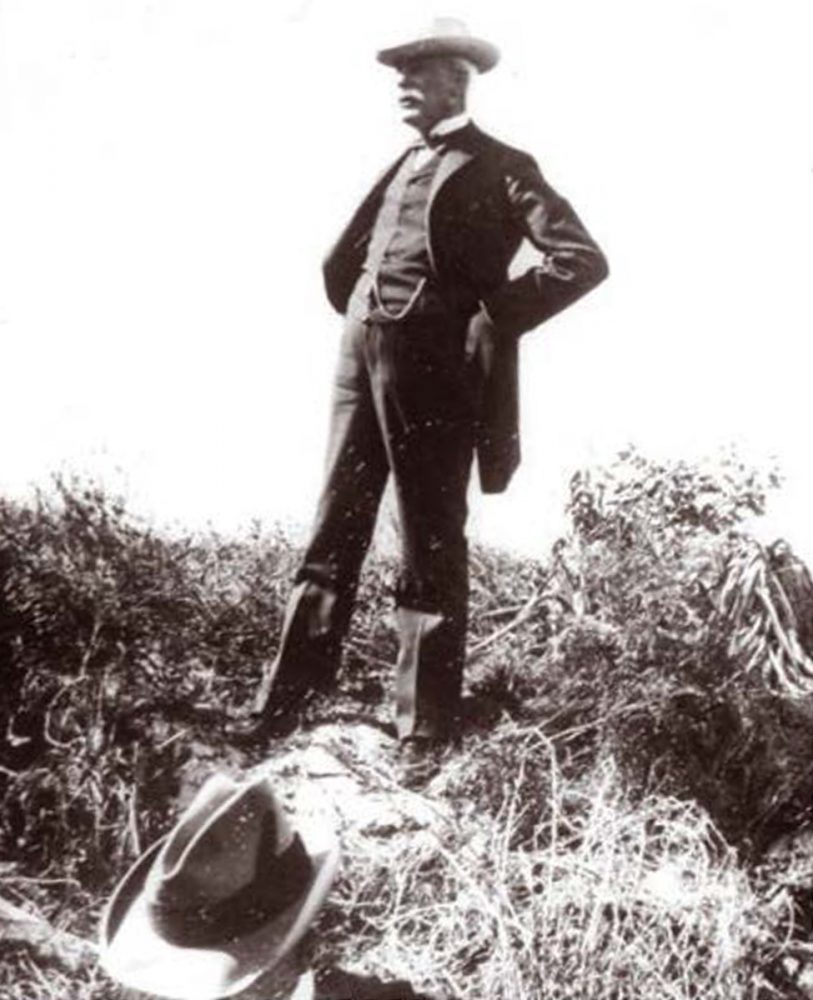 COL. EDWARD R. BRADLEY
Bradley, who owned stables in Kentucky, was also the owner of the "world's most exclusive" gambling establishment in Palm Beach, Bradley's Beach Club, which was the hottest ticket in town from its inception in 1898 until it closed in 1945. Col. Bradley asked that his patrons wear evening clothes and did not allow smoking in the ballroom.
Marjorie Merriweather Post
Post was an enterprising breakfast-cereal heiress who spent $8 million in the 1920s to create Mar-a-Lago—a 17-acre estate with a 100-plus-room mansion complete with a 75-foot tower (the island's tallest), lakeside cottages, nine-hole golf course, citrus groves, greenhouses, pool and an underground tunnel to the beach. Post would fly in diplomats from around the world to attend The Red Cross Ball at Mar-a-Lago.  Along with later "queens of Palm Beach" like Sue Whitmore (Listerine heiress) and Mary Sanford, (Bigelow-Sanford Carpet Company), Post was the social arbiter of her day and one of the first grande dames of society in Palm Beach.
THE KENNEDYS
John Fitzgerald Kennedy and other members of the large Kennedy clan were the "first family" of Palm Beach, from the time of JFK's presidency—when their Palm Beach compound at 1095 N. Ocean Blvd. was known as the Winter White House—to the scandalous Kennedy-Smith rape case in 1991. Joseph P. Kennedy bought the Mizner-designed house in 1933 and hosted many fond memories for the Kennedy clan. It was where the family celebrated Jack's 1960 presidential win, and where they spent many winter vacations. The Kennedys went to Sunday mass at St. Edward Catholic Church, and Teddy and Rose were photographed shopping on Worth Avenue. When Joe Kennedy died in 1969, Teddy took over the estate. By the 1970s and 1980s, Rose Kennedy's visits became infrequent, and the house began its long downhill slide. By 1991, when Patrick Kennedy Smith was accused of rape at the compound, the days of the dynasty were over.
WORTH AVENUE
Worth Avenue is arguably the most exclusive shopping district in the world and the commercial heartbeat of Palm Beach. Its growth was an indirect offshoot of The Everglades Club, which set the tone early on for the prestige this strip of real estate would eventually command. By 1923, tenant disputes over rising rents at the then-fashionable Beaux Arts Building on Lake Trail, just north of the Biltmore Hotel, prompted merchants to flock south. The Everglades Club's weekly luncheon fashion shows served as a launch pad for designers like Valentino, Blass, Givenchy, Madam Greis and Pauline Trigère—the beginning of Worth Avenue's rich fashion history. In 1938, the Worth Avenue Association was formed, incorporating in 1961.
SOCIETY OF THE FOUR ARTS
This revered nonprofit cultural organization was founded in 1936 to fill the cultural gap on the island. It is housed in a building designed by Maurice Fatio and has a gallery, a concert hall, a library and a sculpture garden. The Four Arts presents highprofile speakers, concerts, films and art exhibits. There is a perpetual waiting list for memberships.
GEORGE HAMILTON
The son of society bandleader George "Spike" Hamilton (who also helped develop White Shoulders perfume) and Anne Stevens Potter Hamilton Hunt Spalding, the tan man is synonymous with the white dinner- jacket charm of the privileged Palm Beach social scene. He spent part of his boyhood in Palm Beach and won an award for "best actor" in a Palm Beach High School contest.
LILLY PULITZER
Pulitzer blazed her trail in the 1960s with a highprofile marriage (and divorce) from Peter Pulitzer (yes, that Pulitzer). Her star, however, is more firmly affixed to her line of colorfully designed cotton print dresses, slacks, shorts and skirts. Pulitzer's clothes became an instant hit as ladies from Palm Beach to the Hamptons began sporting her signature togs. In 1995, Pulitzer's line was introduced to a new crop of Palm Beachers in a nostalgic re-launch that has become wildly successful over the past decade.
JESSE NEWMAN
Long known as "Mr. Palm Beach," Newman started out as owner of The Prep Shop and The Lullabye Shop on Worth Avenue, but he soon came to be a central figure in Palm Beach business and society. In the early 1970s, he assumed the presidency of the Palm Beach Chamber of Commerce, a post he held for 25 years. He was president of the Palm Beach Zoning Commission for 15 years; was on the Landmark Preservation Commission for six years; was a trustee of the Flagler Museum for 20 years and president of the Worth Avenue Association for 12 years. Newman was also head of Jesse Newman & Associates, a public relations and management consulting firm; he was fiercely protective of both the image and tradition of Palm Beach and its residents and businesses.  He died in 2010.
DUKE AND DUCHESS OF WINDSOR
Perhaps the most famous royal couple to make the island home, the Duke and Duchess of Windsor spent months at the Colony Hotel back in the day—and were notorious as freeloaders. In more recent times, the island regularly entertained members of Great Britain's royal family; and visits from Princess Diana are warmly recalled. There are many people who live or have lived in Palm Beach who are or claim to be royalty. These include gallery owner Prince Monyo Mihailescu-Nasturel, who claims to be descended from three Romanian kings; and designer Sybil de Bourbon Parme, a descendent of the Bourbons who reigned over France until Louis XVI claimed the throne and whose maternal grandmother was the Princess of Denmark. The late Palm Beach mayor Paul Ilyinsky was a Romanov, and antiques dealer Baron Frederick von der Trenck descended from Bavarian nobility.
DONALD TRUMP
The brash entrepreneur stirred things up in Palm Beach in 1986 when he bought the aging dinosaur Mar-a-Lago for a mere $7 million ($5 million for the residence and $2 million for the furnishings). There was talk at the outset of subdividing the property and more than a little resentment directed at the showy New Yorker who did not appear to be acquainted with Palm Beach protocol. However, Trump managed to win over most of his critics when he pulled off a painstaking renovation and enhancement of the historic landmark, transforming Palm Beach's largest home (55,695 square feet) into a private club that he opened in 1995—reviving the tradition of one of the most envied guest lists in town